Odds of Homes Prices Continuing to Fall in Greater Seattle Area Elevated to "VERY HIGH"
Posted by Cary W Porter on Tuesday, August 30th, 2022 at 8:48am
Subscribe to Cary W Porter blog
What's going on? High-cost tech hubs, like San Francisco and Seattle, are getting hit hard by the tech slowdown. Not only are their high-end real estate markets more rate sensitive, but so are their tech sectors.
Back in June, Fed Chair Jerome Powell made it clear to reporters: The Pandemic Housing Boom was over. Heading forward, he said, spiked mortgage rates would push the U.S. housing market into a slowdown.
"We saw [home] prices moving up very very strongly for the last couple of years. So that changes now. And rates have moved up. We are well aware that mortgage rates have moved up a lot. And you are seeing a changing housing market. We are watching it to see what will happen. How much will it really affect residential investment? Not really sure. How much will it affect housing prices? Not really sure," Powell told reporters in June. "I'd say if you are a homebuyer, somebody or a young person looking to buy a home, you need a bit of a reset. We need to get back to a place where supply and demand are back together and where inflation is down low again, and mortgage rates are low again."
It's clear the Fed's "housing reset" will give homebuyers more options (i.e., rising inventory) and more breathing room (i.e., fewer bidding wars).
And now, a larger percentage of Seattle homes are sitting on the market for 30 days or longer, according to a new Redfin analysis.
The share of Seattle homes listed for more than 30 days has increased 41.3% in the last year, according to Redfin. The percentage increase in Seattle was 10th-highest in the nation. Oakland, California, was No. 1 at 60.7% followed by Phoenix at 54.5%.
According to the report, 51.4% of Seattle homes in July were on the market for 30 days or more without going under contract. A year ago, that percentage was about 35.
"People want to know whether we've officially shifted from a seller's market to a buyer's market. While there's not a clear line separating those two ideas, homes sitting on the market longer is a point in buyers' favor," said Taylor Marr, deputy chief economist for Redfin.
"Buyers can take their time making careful decisions about homes without worrying so much about bidding wars, offering over the asking price and waiving contingencies. It's a different story for sellers, who have spent the last two years hearing about their neighbors' homes getting multiple offers the day they go on sale. Now they need to price lower and get back to the basics of selling a home, like staging and sprucing up painting, to get buyers' attention."
To better understand where home prices might be headed, Fortune reached out to CoreLogic to see if the firm would provide us with their updated August assessment of the nation's largest regional housing markets. To determine the likelihood of regional home prices dropping, CoreLogic assessed factors like income growth projections, unemployment forecasts, consumer confidence, debt-to-income ratios, affordability, mortgage rates, and inventory levels. Then CoreLogic put regional housing markets into one of five categories, grouped by the likelihood that home prices in that particular market will fall over between June 2022 and June 2023. Here are the groupings the real estate research firm used for the August analysis:
Very high: Over 70% chance of a price dip
High: 50%–70% chance
Medium: 40%–50% chance
Low: 20%–40% chance
Very Low: 0%–20% chance
"Probability of home price decline continues to intensify as mortgage rates hit a new high in June and housing demand took a considerable dip," Selma Hepp, deputy chief economist at CoreLogic, tells Fortune.
"Price decline risk remains concentrated in regions that saw exceedingly high home price growth over the last two years, but not the same level of population and income growth, and areas that are historically more sensitive to increase in mortgage rates and recession signals,"
The real estate industry should always be on high alert when the Federal Reserve shifts into inflation-fighting mode. After all, the sector is the most rate sensitive sector in the economy. That said, some regional markets should be on higher alert than others. Historically speaking, when a housing cycle "rolls over," it's normally the significantly "overvalued" housing markets that are at the highest risk of home price corrections.
What's going on? High-cost tech hubs, like San Francisco and Seattle, are getting hit hard by the tech slowdown. Not only are their high-end real estate markets more rate sensitive, but so are their tech sectors.
Home values have also decreased for the first time in a decade, according to Zillow, and that's just one of several signs it's finally getting easier to buy a house.
The Zillow Home Value Index dropped in July for the first time since 2012, according to new data from the real estate website. The index, which uses Zillow data to measure the value of a typical home, fell 0.1% on a monthly basis.
"Home values flattening so quickly after recent record growth might surprise," Zillow Chief Economist Skylar Olsen said in a news release, "but it's a badly needed rebalancing that gives homebuyers more options, more time to shop and more negotiating power."
Home sales projected to fall 16.2%, Fannie Mae says in new forecast
Economists at Fannie Mae have once again been forced to revise their forecast for 2022 home sales downward, saying affordability remains a "major constraint" for homebuyers despite the recent easing of mortgage rates.
"Housing remains clearly on the downtrend — and has been for several months now — due to the combined effects of outsized home price increases and the significant and rapid run-up in mortgage rates," said Fannie Mae Chief Economist Doug Duncan, in a statement.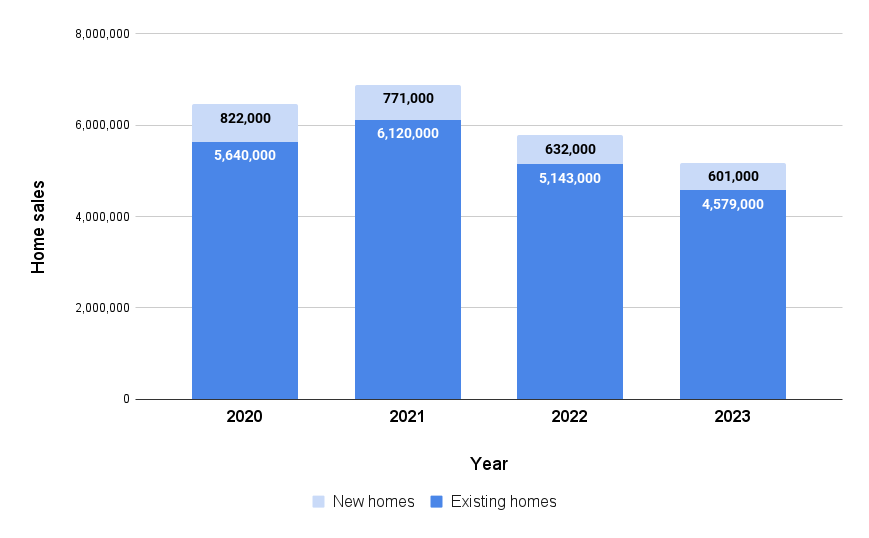 Source: Fannie Mae Housing Forecast, August 2022
In projections released Monday, forecasters with Fannie Mae's Economic and Strategic Research Group said they now expect 5.78 million homes to change hands this year. That would represent a 16.2 percent decline from a year ago — a steeper drop than the 15.6 percent pullback forecast in July.
"Despite a pullback in mortgage rates over the past month, recent incoming data point to a faster near-term slowdown in sales than we had expected, especially for new homes," Fannie Mae forecasters said.
Olsen attributed the slowdown in price growth to rising mortgage rates, which forced many prospective buyers out of the market as the cost of buying a home shot through the roof. Data released last week by the National Association of Realtors (NAR) showed that sales of existing homes (not new construction) were down 20% on an annual basis in July thanks to soaring borrowing costs.
Bigger portion of Seattle homes sitting on the market for 30-plus days
Buyer opportunities have returned to the Puget Sound market
Active listings have nearly doubled from a year ago
The market balance is favoring buyers
"We are seeing builders moving their price points down and providing incentives to buyers in closing costs and buydowns to help borrowers obtain lower interest rates."
Overpriced listings have missed the market.
KIRKLAND, Washington (August 4, 2022) – New statistics from Northwest Multiple Listing Service confirm reports of a shifting housing market, prompting one industry leader to suggest "all parties involved in a transaction today have to recalibrate."
"Today's buyers have their cups finally overflowing with options as residential inventory grows to about two months of supply," said Dick Beeson, managing broker at RE/MAX Northwest Realtors in Gig Harbor. The MLS report summarizing July statistics show 2.01 months of inventory system wide.
Commenting on the "many moving parts" of the market and the need to recalibrate, Beeson said sellers "are starting to see that overpricing just ain't in the cards right now." He also noted buyers still have to compete with other would-be homeowners, and depending on the property, some sellers are receiving offers over their asking price. "Buyer and seller expectations have changed. It feels like things are starting to normalize a little," Beeson remarked.
The market balance is favoring buyers, reported Dean Rebhuhn, owner at Village Homes and Properties in Woodinville. "After experiencing multiple offers, shrinking inventory, or not being able to include inspection or financing contingencies with their offers, buyers now have choices," he explained.
Growing Number of Experts Calling for Substantial Home Price Declines